What's your story behind your work? | Photo via Good Free Photos 
Yes, social media is for advertising, but not in the way we may be thinking.
You've seen the Twitter feeds where authors are constantly posting about their book. They have tens of thousands of followers, and just as many tweets, but hardly any retweets, likes, or comments. Their followers aren't engaging with the content. 
It's basically a stream of ads. Who wants to go to someone's Twitter feed to see ads?
And better yet: who logs into Twitter with their credit cards at the ready to buy some books? Have you ever bought something on impulse because of one random tweet?
Probably not. If you or anyone else has, the odds of that having happened were low. 
Social media is a great marketing tool, but you're not marketing your products and services. The most effective marketing strategies in social media involve marketing yourself. Social media is the place to be you. 
In a thread by John Prescott (@FatMopZoo), author of After, he 'announced' that he was no longer going to advertise on social media anymore. Here's his reasoning:
What makes this tweet stand out is that it's concerned about the other users, the followers. Prescott is able to think outside himself--he doesn't want to be annoying.
I followed him immediately and am thoroughly enjoying his tweets.
Some of the responses in the thread argued great points about social media being about advertising. Like I said, social media is a place to advertise. My argument is that it's not advertising in a traditional sense: it's not commercial, it's conversational.
I don't follow or follow back users who are merely flooding their feeds with ad-tweets. It is indeed annoying. But is advertising on social media wrong? Absolutely not. We are just going about it wrong.
Last week, I talked about how we writers and artists in general may be moving too fast. Everything seems to be going in a rapid pace. But it might not be. 
If you're going to sell your products and services, social media is the place to form relationships, start and participate in conversations, and be helpful to one another. The authors' whose books I've purchased are the ones who I've had great conversations with over a period of time. 
On social media, you're far less likely to inspire anyone by one post to buy your thing. 
It takes several posts at least. It takes time to build a relationship with others. It takes even more time to build an audience. And even more time to intrigue them with your book or service. 
That's not to say "never post anything directly advertising your book." What I am saying is that you need to be patient and you need to find balance. 
I like to go by the 80-20 rule. Eighty percent of my posts are not related to what I'm trying to move or sell. They could be tweets asking questions, taking polls, retweeting articles and blogs that I think are interesting, insightful, and helpful, and getting people to engage about something topical and share their thoughts. The other twenty percent of my posts includes blogs, talking about my own writing, and mentioning my editing services. Much like Scott says above, I pin my most important "goods and services" tweet to let people know, hey this is what I can do for you, and that's it.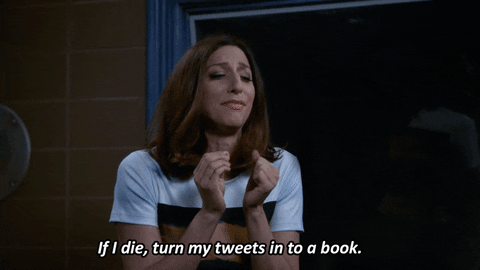 I haven't tweeted about my book being on sale in ages, yet these conversations I'm having in the eighty percent are what get people to talk with me. Often, that leads to sales--for both me and the other person.
Certainly, there are exceptions to this rule. I'm merely speaking from my experience, and the experiences of others that align with this approach. Generally, people follow others on social media not to be sold something directly but to be involved in the conversations and to find helpful resources. Or, they're already huge fans of the people they follow. 
Consider your own consumer habits when you're thinking about your social media marketing strategies. What does your audience really use the platforms for? Where are they buying their books? And more importantly, what inspires the impulse to buy those books? It's often coming from establishing a relationship with the story or the author prior to reading it. How will you go about establishing (and grooming) those relationships in a genuine, empathetic way?
Please reload
The Recital
Available in Paperback & Kindle
on Amazon
Kyle V. Hiller is a freelance editor, published author. To inquire about his editing services, visit the services page. To read his work, check out The Recital and Project Anjou. If you're just hanging out, subscribe to his newsletter below, where you'll get posts like this delivered straight to your inbox! Stalk Kyle on Twitter and Instagram, too.